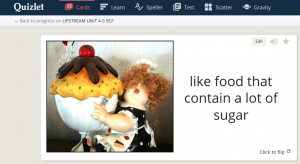 Master your classes with the leading education app! Create your own flashcards or choose from millions created by other Quizlet users on thousands of subjects.
LEVEL: All levels.
POSSIBLE ACTIVITIES:
 You can focus on vocabulary by using this website and app. As there is also an app version of this site, you can ask your sts to download it to their mobile phones. They may practice vocabulary anytime that they want.
 You may create vocabulary quizzes quickly. (multiple choice- matching- picture matching- definition- true/ false)
 The students may assess their own vocabulary knowledge by using 'Learn' and 'Test' sections.
 They can learn vocabulary by playing 'Gravity' game which is based on a matching activity.